Early on, as both French colony and port city, New Orleans enjoyed fine Bordeaux and Cognacs, bitters, and exotic fruits from the West Indies, and when whiskey flowed down river from Kentucky, we saw no bad reason not to drink. One concoction that lends to libation legend was Antoine Peychaud's invention of "Peychaud's Bitters." As a French Quarter pharmacist, Peychaud sold it as a cure for everything from hiccups to headaches, and in the 1840s when it made its way into a Sazerac, you might say our collective cocktail culture was formally launched.
From the Sazerac to Storyville and the birth of Jazz, our cocktail party was just beginning to roar when Prohibition threatened to shut it all down. Of course, New Orleans reveled and rebelled in spectacularly boozy fashion to become the "Liquor Capital of America"—this due in large part to a well-oiled bootlegging machine and the many local "home brews" being produced throughout the city.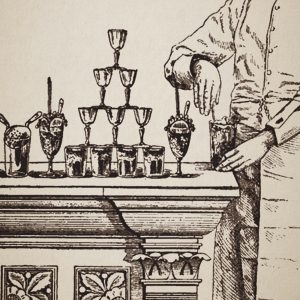 Hyperbole aside, Prohibition proved 100-proof positive that New Orleans knew a thing or two about the cocktail business. Just consider for one moment Benson Harrison "Pat" O'Brien—a successful bootlegger who opened a little speakeasy on the corner of Royal and St. Peter Streets. O'Brien's place thrived through Prohibition's repeal to become a legit bar, and with his invention of the Hurricane, a legitimate heir to New Orleans's intoxicated inheritance.
Walking out of Pat O's into Post-war New Orleans, you bear witness to a city steadily becoming a favorite tourist destination for both Americans and international travelers, with hordes of annual visitors drawn to the frivolity of the French Quarter, the bawdiness of Bourbon Street, and of course, the mad rascality of Mardi Gras. Out of this energy came a simple creation whose importance in New Orleans cocktail lore should not be underestimated: The Go-Cup. A symbol for a city always willing to go anywhere for a good time, the Go-Cup allowed for party portability, the freedom to take our favorite drinks with us wherever we so desired. It also gave birth to a cottage industry of novelty cocktails—plastic concoctions that allow locals to easily identify the tourists in their presence.
Deride the go-cup if you want, but what it lacked in refinement it more than made up for with resilience. And, it's moxie that helped firmly fortify the cocktail corridor of Bourbon Street and cocktail culture beyond that French Quarter.
New Orleans cocktail culture has many defining moments (too many to list here), but it is from these coupes, highballs, and go-cups that our cocktail legacy was made, and from where it is still enjoyed today.